Other Memphis
Passenger Stations



Contributed by Bill Pollard

Calhoun St. Station

located at Calhoun and Main before the current Central Station that was errected in 1914. This ad declares that the Choctow Route (predecessor of the Rock Island), Yazoo and Mississippi Valley (Y&MV), and the Illinois Central used this station. Research suggests that this station was also used by the Kansas City Ft. Scott and Memphis (later Frisco), Nashville Chattanooga and St. Louis (NC&StL), Louisville and Nashville (L&N), and Southern before Union Station was opened in 1912 and may have been referred to as "Union Station". When Memphis Union Station Company opened Union Station in 1912, the Nashville Chattanooga and St. Louis, Louisville and Nashville, and Southern moved to Union Station at Calhoun and Second St. The St. Louis Iron Mountain and Southern also moved into Union Station from their Georgia Street station. At least the Louisville and Nashville referred to this as their "South Memphis" station during the time that they also operated a Terminal Station in "North Memphis" at Auction and Main.



Contributed by Bill Pollard

Poplar Street Station was located at Poplar and Front. This station was used by both the IC and Y&MV. This station was opened in 1890. The top part of the tower was removed in 1931, on instructions from the city building inspectors. The original imposing structure was razed in 1939, but a smaller facility continued in use as a secondary station until the 1960s. In the later years it was a stop for only a few trains with the stop for northbound trains eliminated first. By April 1956, trains 3, 15, and 25 stopped southbound, and only #8 northbound. In 1960-61 the northbound stop was eliminated, but the 3 southbound trains continued to stop. In early 1966, the stop of #25 was eliminated, leaving only #3 and #15, both early morning arrivals. The station finally disappeared from public timetables with the April 1967 issue.
It was from this station that John Luther "Casey" Jones left on April 30, 1900 on his ride to glory. There is a historical marker dedicated to that at the corner of Front and Poplar. The stone retaining wall is still in place.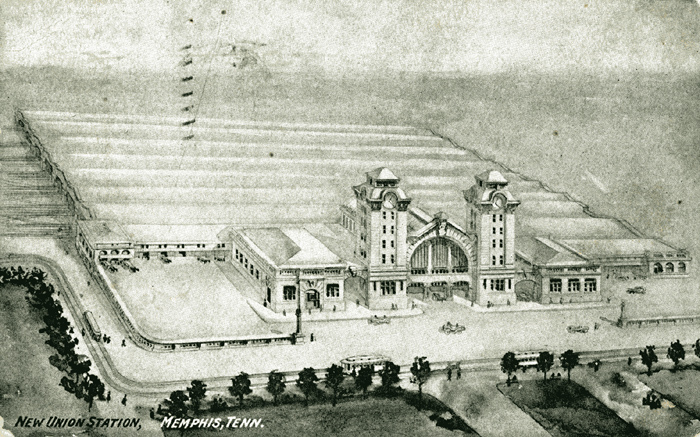 Contributed by Bill Pollard
The Union Station that never was.
History Department, Memphis/Shelby County Public Library and Information Center

View of the former LN&G depot, circa 1936.

Terminal Station: Original Louisville and Nashville station used at their "North Memphis" station for a local until at least 1902. L&N moved their through trains to Calhoun Street Station (Union Depot) April 1, 1901, and moved the locals Dec 7, 1905.
| | |
| --- | --- |
| Oct. 1970 Photo by Bill Pollard | Georgia Street Station was the original St. Louis Iron Mountain and Southern (StLIM&S) station used by StLIM&S and St.Louis Southwestern (SSW) until the opening of Union Station in 1912. The StLIM&S successor Missouri Pacific again used this station when Union Station closed in 1964. |
| | |
| --- | --- |
| 1967 photo, History Department, Memphis/Shelby County Public Library and Information Center | Memphis and Charleston Station: Original station of the Southern predecessor Memphis and Charleston located at 32 North Lauderdale Street near Madison. It was used by the Southern during the time that Union Station was closed from April 1, 1964 - December 1, 1966. |
| | | |
| --- | --- | --- |
| Contributed by Bill Strong | | Buntyn Station: Suburban Southern station located at Southern Ave. and Semmes St. The view to the left shows Buntyn Station, Circa 1949, looking west, SRR Forrest Yard and coal chute in distance (coal chute demolished 1950), Crossing watchman shack on left, Memphis Country Club entrance on right. |
| | |
| --- | --- |
| Photo by Mike Condren | Lenox Station: Suburban station of Nashville Chattanooga and St. Louis and Louisville and Nashville station located just north of Central Ave. on South Cooper Street. This track side view shows the steps to Cooper Street. The stairs are partially blocked by the girders of the Union Railway bridge on the left. The Union Railway tracks changed to this aligned in 1952. During the days of passenger service, this was a flagstop with a yellow painted, open, wooden shelter reached by a second set of stairs. These latter stairs were on the north side of the tracks, east side of Cooper Street. 1967 L&N Timetable showing Lenox Station |
Normal Station: Another suburban Southern station located along Southern Ave. about 1/2 mile east of Buntyn, exact location unknown. (No photo available)
For information about the Memphis Union Station.
For information about the Memphis Central Station.
For information about the The evolution of Memphis passenger stations
contributed by Bill Pollard.
Memphis Passenger Train Timeline 1952-2004
(Data compiled by Phil Gosney)
This site is maintained by the Arkansas Boston Mountains Chapter of the National Railway Historical Society located in Springdale, Arkansas



Home of THE ARKANSAS SCRAMBLER
For questions, email arkyrail at outlook.com