Memphis Union Station
Served by Louisville & Nashville, Missouri Pacific, Nashville Chattanooga & St. Louis,
St. Louis Southwestern and Southern
The Memphis Union Station was located on Calhoun Street between South Second Street and Rayburn Boulevard (now South Third Street). Street cars of the Memphis Street Railway Company served both Calhoun Street and Rayburn Boulevard.
The station was constructed between 1910 and 1912 along with trackwork, power plant, and service facilities, opening on April 1, 1912. The facilites were operated by the Memphis Union Station Company. The Iron Mountain published a pamplet concerning the construction of the facilities.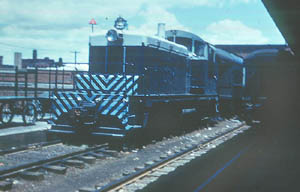 Bill Pollard Collection
Memphis Union Station SW-1 #10
click
here
for views of MUS switch engines
The last St. Louis Southwestern (Cotton Belt) train, "Lone Star", departed on October 31, 1952. At the time that the station was vacated on April 1, 1964, it was served by the Louisville and Nashville, Missouri Pacific, and Southern. While Union Station was closed, the Missouri Pacific's "Eagle" connection operated from the old Iron Mountain station (43 W. Calhoun) until service was suspened Aug. 26, 1965. The Louisville and Nashville moved to Central Station. The Southern moved back to their Memphis and Charleston Station on Lauderdale.
Lyle Key visited Memphis Union Station on its last day of operation, taking movies, black & white, and color pictures.
The eventually TPUC ruled the closure action illegal. The station was reopened Dec. 1, 1966 with four arrivals and departures, 2 L&Ns and 2 Southern. The last L&N train, "Humming Bird Connection", departed on Feb. 24, 1968. The last train to depart from Union Station on March 30, 1968 was Southern's "Tennessean". Click here for a listing of passenger train operations in Memphis from 1952-2004 compiled by Phil Gosney. Click here for the document created by MP/Union Railway with the proposed move to "Grand Central Station". November 1, 1960 (contributed by Phil Gosney). The facility was demolished in 1968.
I wish to thank Phil Gosney for imformation concerning the last trains that served Memphis Union Station.
To return to the Memphis Historical Railroad front page
For information about the Memphis Central Station.
For information about the The evolution of Memphis passenger stations.
For information about the Other Passenger Stations of Memphis.
This site is maintained by the Arkansas Boston Mountains Chapter of the National Railway Historical Society located in Springdale, Arkansas



Home of THE ARKANSAS SCRAMBLER
For questions, email arkyrail at outlook.com